Buckeye Appliance ~ Vintage Stoves!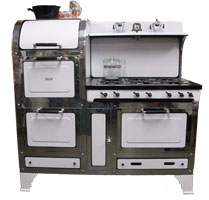 Buckeye Appliance has a wide range of refurbished antique stoves in the store.
They range in price from about $1,200 to $10,000, depending on the rarity of the stove and the amount of restoration involved. Most stoves are in the $1,200 - $3,500 price range.
All stoves are refurbished to like-new condition and guaranteed!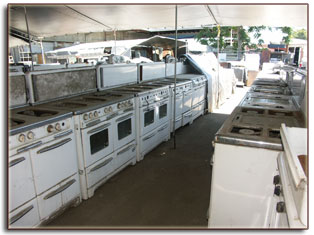 We have a good selection of stoves - finished and unfinished. You'll often find stoves like these (above) that are currently works in progress.
---
#1201
This is a Wedgewood from the 1950's, with 4 burners, griddle, oven, and broiler. It has a chrome top and storage compartment. It measures 36" wide, 47" tall, and 29" deep.


Click on photos for a larger view.
#1067
This yellow Wedgewood Holly is from the late 1950's. It has 4 burners, an oven, broiler and storage. It measures 29" wide, 28" deep, 44" tall..

See a sampling of the rest of the stoves in our showroom!

---
---
We may not have these exact items in stock.
Please visit our showroom, or
contact us
to find out about our latest collection.
Note: We cannot give appraisal quotations over the telephone or via e-mail. In order to give you an accurate valuation of your stove, we need to see it . Quotes are available on-site for $75.00. Please call or e-mail for details.